Finally I've finished the last in this series of four Dark Avengers commissions, this time with Noh-Varr taking over as Captain Marvel. He keeps the Marvel Boy head from Hammer of Thor, but swaps bodies with the Supernova version of Captain Mar-Vell. Greenstuff of course adds his belt and parts of his gauntlets. He is on the Hammer of Thor Marvel Boy dial with a flight stand added to accomodate the sculpt.
Posted: 09-Sep-2010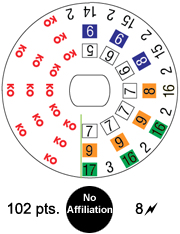 Telepathic Projection (Speed)
Captain Marvel can use Mind Control. After a succesful attack by Captain Marvel using Mind Control, he can use Incapacitate as a free action targeting the same character.