By request from another player at my venue, here is Batman Beyond villain Stalker, made from the Amazing Spider-Man version of Spider-Man 2099. He gets a staff in his hand from the Streets of Gotham Robin, and I swapped his head with a Galactic Guardians Drax since my attempts at adding facial features were a bit lacking. He stays on the Spider-Man 2099 dial, I assume only played at the experienced point value.
Posted: 04-May-2013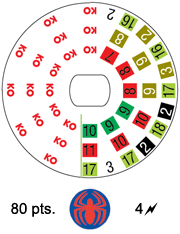 Metallic Spine (Improved Movement)
Ignores elevated terrain, ignores hindering terrain.