When tidge decided he wanted to use Speedball's dial as an alternate for Bouncing Boy, he asked me to make this mod of an uninflated Chuck Taine. He is made from a Secret Invasion Yellowjacket body, whose unique physique lends itself for the most part to Bouncing Boy's figure. His stomach area is "thickened," and his head has been replaced with one from Hulkling. He's on the aforementioned Speedball dial.
Posted: 01-Oct-2009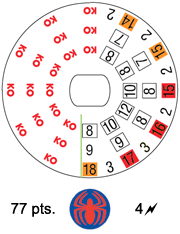 Bounce (Speed)
Bouncing Boy can use Charge and Leap/Climb, and automatically breaks away.
Ricochet (Attack)
Once per turn, if Bouncing Boy defeats an opposing character or hits an opposing character with doubles, after the attack resolves he can break away automatically, immediately move up to his full speed value, and make one close combat attack against a different opposing character as a free action.