I've thought about how to do a Quislet mod for a while, and tidge finally convinced me to make one based on the Newsbot object from the Legion of Super-Heroes starter. The Newsbot is used pretty much as a structural component, with greenstuff around it making up Quislet's ship. He has a flame trail from Titanium Man's right boot and is on a ship stand from the Star Trek Tactics release. His dial also comes from that set, belonging to the common U.S.S. Reliant.
Posted: 16-Jul-2012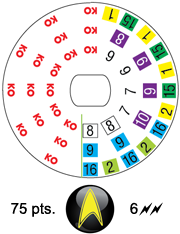 Matter Manipulation (Speed)
Quislet can use Charge. Give Quislet a power action; remove from the map up to three blocking or hindering terrain markers within 6 squares. If you remove at least one marker in this way, Quislet can then use Smoke Cloud as a free action.