To get a better dial for Brainiac 5, tidge asked me to make this mod of Brainiac 5 in his classic appearance. He is made from a Lobster Johnson body with several modifications, a head from Captain Atom, and a right hand from a Hydra Medic. He is played on an Anarky dial, giving him the crafty ability to remove tokens from my teams and stop Mary Marvel from pushing off of her activation click!
Posted: 17-Dec-2009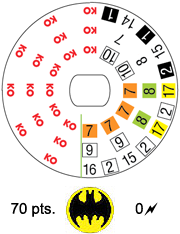 Emergency Deployment (Speed)
Brainiac 5 can use Phasing/Teleport and the Carry ability.
Experimental Leftovers (Attack)
Brainiac 5 can use Quake and Smoke Cloud. After Brainiac 5 uses Smoke Cloud, he can be given a move action as a free action.
Manipulating Time Has Consequences (Damage)
Brainiac 5 can use Outwit. Brainiac 5 can use Probability Control if before using the power you remove an action token from an opposing character not currently taking an action.